FOR US, IT'S ALL ABOUT THE PEOPLE
Levels is a company made up of curious people, bold people, and not to forget kind people. We strive to be lifelong learners at the frontlines of where change happens. Because we love what we do, and we love doing work that matters. We believe in taking risks and don't shy away from challenging the status quo. This means daring to think outside the box and fail small to learn fast and iterate the way forward.
WE ARE IMMENSELY PROUD OF OUR WARM & INCLUSIVE CULTURE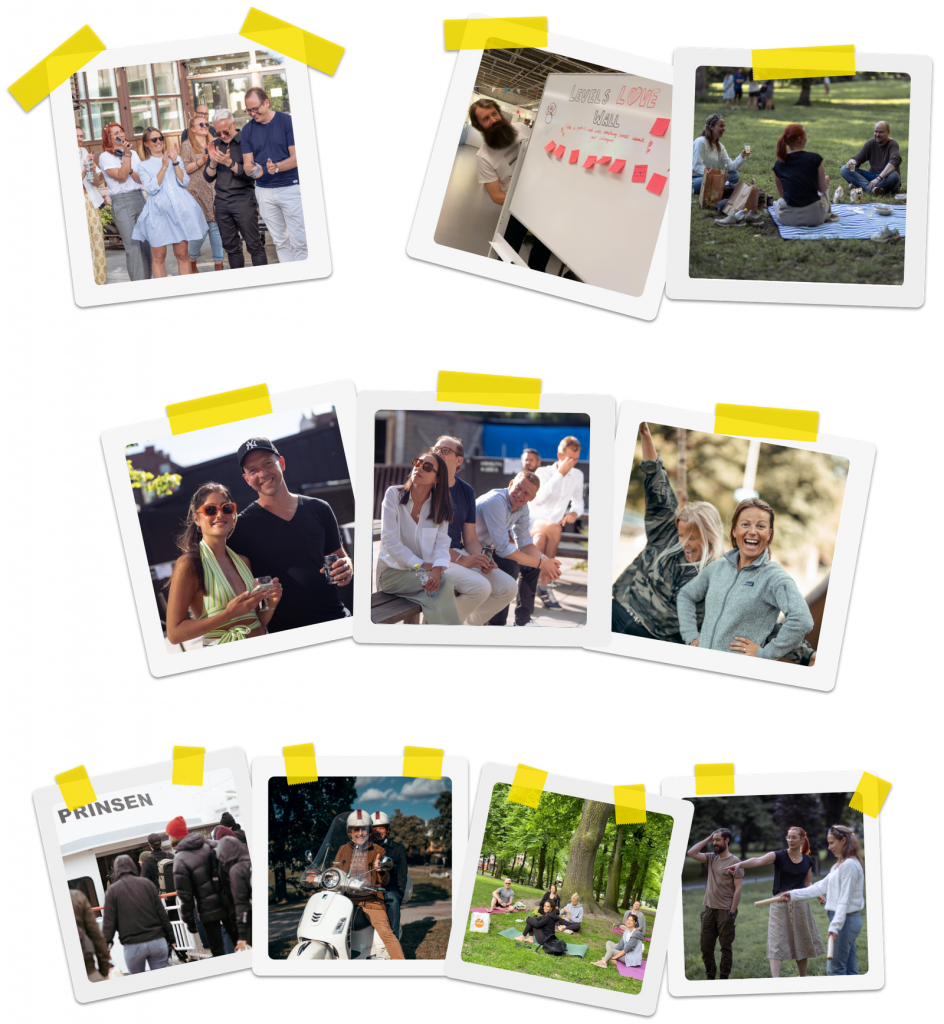 We work in dynamic and multi-disciplinary teams, making sure to have breadth as well as depth of expertise. From us, you can expect heaps of commitment, creative ideation, and good times, combining individual efforts with supportive teamwork.
Founded in Stockholm and with an arm in Berlin, Levels operates in two of Europe's largest and most innovative tech hubs. Our main office is located in the heart of Stockholm at A house, a creative and entrepreneurial community for small and medium-sized businesses within the fields of media, fashion, music, food, and tech. A house was founded to be more of a destination than an office and a refined machine for creative development, a motto that describes Levels as well as our local environment very well.
‍
There is no shortage of diverse opportunities such as wine and food tastings, running clubs, yoga classes, art openings, fashion events, and house parties when working here. Situated in the charming part of Östermalm called Lärkstaden, between the Lill-Jan woods and the park Humlegården, you don't have to walk far to find great restaurants, bars, cafés, greenery, trail runs, shops, and alike nearby. One of Stockholm's leading and most innovative microbreweries, Omaka, is even located in our own basement.
In Berlin, we have a smaller footprint at Betahaus, located in the Kreuzberg area buzzing with creativity and close to former Checkpoint Charlie. The space, however, shares much of the same vibe and values as our location in Stockholm, a destination where ambitious people can connect, create networks, and collaborate to innovate and take on new challenges – unlocking the potential to do more than one could achieve alone.
Do you dream of finding a job where you have the opportunity to fundamentally influence the products and businesses you are developing?
Are you a creative app developer who loves solving challenging and interesting problems? And do you want to work for an entrepreneurial company at the forefronts of change?
Can't find your dream job listed? Send us a message anyway! 
Let's work together and create something great.
DON'T MISS OUT ON THE GOOD STUFF
Sign up to our newsletter today!